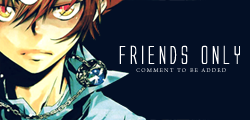 Well...you can call me Hayato. I like to read, write, play videogames, watch anime and read manga. My two favorite videogame series are Final Fantasy and Kingodm Hearts. As for animes/mangas, some of my favorites are Katekyo Hitman Reborn!, Deathnote, Rurouni Kenshin, and Bleach. If you really want to know more, check the user info.

As for the name darkkefka, I would like to just to let everyone know right now that I'm not "Darkkefka" from youtube. Frankly, I didn't even know there was a darkkefka on youtube until one of my friends showed me one of his videos(I will admit that he does kick ass final fantasy though).

Anyway...if you decide to friend me, I will admit that you will see me rant from time to time but hey...who doesn't?

Current Mood:

good
Current Music: Dragostea din tei-O-Zone